Fix Low Water Pressure NYC
At least once in awhile every homeowner has experienced the frustrating experience of low water pressure coming out of faucets, showers, or sinks. Increasing water pressure does not seem like a huge or pressing task, but this does make daily activities much more difficult. Usual things such as washing dishes or taking a shower become time-consuming tasks, and this problem will not typically go away on its own.
Pressure is affected by a number of plumbing issues, so even when the pressure from the public water supply is actually powerful enough, the flow of water is affected by the pipes that go into your house. The most common causes of low water pressure and how to solve them are not many, nor difficult to understand. Many times a professional is not needed to diagnose the problem, but each case varies.
Low Water Pressure can be caused by a variety of plumbing conditions. As stated, many of these conditions can be easily checked by a handy property owner. But usually a licensed plumber, or a plumbing contractor who specializes in subsurface work is a better bet. Low water pressure can be due to a water line problem, inside plumbing problem, or even an issue with the water meter. There is a common-sense way to approach increasing water pressure. The following steps should be taken before rushing into expensive repair work that may not even correct the issue.
The 6 steps to increasing water pressure
These six steps can address most water pressure issues, and lead to increasing water pressure. Frequently a Licensed Master Plumber should be included in the process. In some cases permits must be filed to avoid future violations.
1. Debris in a faucet screen or an aerator
It is actually very possible that low water pressure is caused by a water line break or routine maintenance on the public water supply pipeline. But if those are not the case, the problem can be as simple as debris or sediment in the faucet strainer, or aerator. To see if this is indeed the culprit, take off the aerator (it is a small cylinder on the tip of spout), and try to flow water from the faucet again. If the the flow of water is good and with strong pressure, you can be pretty sure that the aerator needs either cleaning or a replacement. In the case of increasing water pressure, this is the easiest and cheapest fix possible.
To clean the aerator, put it on a towel placed in the sink. An aerator is a small thing, but it has multiple components. As you separate the components, towel will prevent any of them from going down the sink. You may need to use a toothbrush to clean each part. If necessary, soak every component in a mixture of water and vinegar. Make sure you remember where each component belongs so you can assemble them again. This is an easy fix that you don't need any plumbing skill to accomplish.
2. Check all water line valves in the house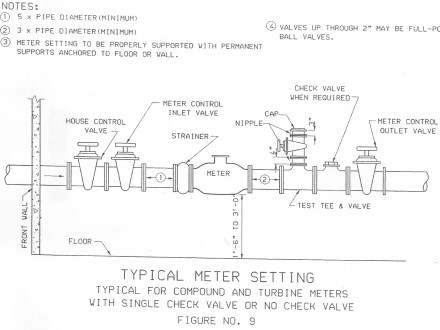 The first step to increasing water pressure, is to determine if low water pressure is throughout the entire property. Or if it is in only certain area of the premises.  Locating and checking all valves in the building must be done first.
There are typically two main control valves for the main water line. One valve before the meter and one valve after the meter. Make sure both of these valves are open. If low water pressure is only in one area of the premises check for valves for that section of the building.
There may be a partially closed or broken valve for a particular plumbing fixture. Increasing water pressure can simply mean replacing a defective, or partially closed water valve. Typically there is a separate valve for hot and cold water under each sink and sometimes there are sectional water valves inside the building. For more information on how to close a water main valve visit read how to open or close a water main valve.
3. Check the size and type of inside house plumbing
If any inside house plumbing is galvanized pipe, even if it is just one fitting, that could be the sole cause of low water pressure. An easy way to test if a pipe is galvanized is with a magnet, as galvanized pipe is the only water main material that is magnetic.
Typically the inside plumbing of the main line of a one or two family house is 3/4″ or 1″. Branch lines are typically 1/2″ or 3/4″. 
4. Check the type and size of the main service line
Supply pipe size and length also affect the water pressure. You can check the water pressure from the main water line to the house by using a pressure test gauge with a hose connection or test tee. Install the gauge to a hose connection or test teeee in the house and make notes of the pressure. Water pressure of 45 to 50 psi can be considered low, 60 psi is good, and 80 psi is too high. If the pressure is low, a bigger pipe diameter can be good idea.
If there is low water pressure throughout a property it is easy to check on the size and type of a water main. The size of the water main is the same size as the main control valve and the size of the valve is imprinted on the valve itself.
Typically a 1″ service is adequate for a one family house, and an 1 1/4″ service is required for a two family house. Larger properties should be sized out by a professional. Balkan Sewer and Water Main Service performs this service free of charge.
More information about water main materials is available in other post on the website. Please note that if a water service line is made out of galvanized pipe it should be replaced by a water main contractor regardless of the size as galvanized pipe corrodes and restricts the pipe opening. Always keep in mind that repairs on a galvanized or lead water main are not permitted in New York City.
5. Check the water meter for grit or a sediment obstruction
Sometimes grit, dirt, or a foreign object can obstruct the inside of a water meter. To check a water meter you will need a licensed plumber because of the skill level required and because the seal on the meter will be broken. A bypass can be installed when the meter is removed and then the property should be re-checked for water pressure with the bypass installed. If the water pressure is then adequate the meter is the culprit and no water line repair work is required.
Sometimes a plumber can clean the meter out and other times the water meter may have to be replaced. In either case a break seal permit will have to filed with the NYC DEP so they know to reseal the meter. A meter that is not sealed will result in a violation from the DEP.
6. Check on your tap connection size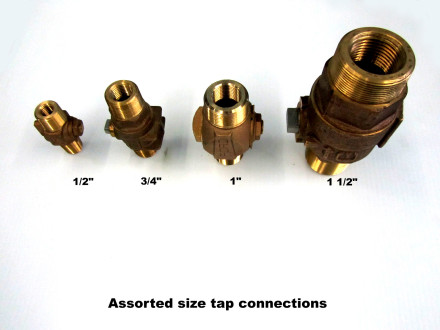 A tap connection is a valve that is drilled into the City water main and is used as a connection for each properties water service line. Even if all other components of the plumbing system are properly sized out an inadequate tap connection will result in low water pressure.
The minimum size tap allowed in New York City is 5/8″ and can only properly service a one family house. Many areas of Southeast Queens formerly serviced by the Jamaica Water Supply are serviced by 1/2″ taps and suffer from low water pressure. When a water main is being replaced a new tap connection adds around $700.00 to the cost of the job.
A closing statement about increasing water pressure
Those are the six basic steps to determine the cause of low water pressure. It is very unusual for a mechanical device to be required in the outer Boroughs of NYC for increasing water pressure. One of the six above issues will almost definitely be the cause of low water pressure.
Tall buildings, such as in Manhattan
In Manhattan, where buildings are much taller, pressurizing pumps and water tanks are much more prevalent in order to supply adequate water pressure to high rise buildings. If you live in a tall building or up on the hill, it is normal to expect lower water pressure than those who live in buildings of a more typical height, or on level or lower ground. The problem gets worse during hours of heavy water use, such as morning or early evening. Rooftop water tanks are commonly located tall buildings  for a simple reason. They work on the principal of gravity, and are able to provide enough pressure to residents of the building without the need for a mechanical device.
Water pressure is affected by the height of a structure, or the land itself. So a tall building may exceed the height that the city's water pressure can handle. To solve this problem, many buildings have their own water tanks and pressurized pump system. The same thing can happen to a residential area where several houses share the same undersized main supply pipe. If you experience a drop of water pressure, the problem can be excessive use, an undersized line. Or the supply line can indeed be damaged due to leaking or accumulated mineral deposits in the external tap connection, or the line itself.
Water line leaks can affect water pressure
On rare occasions a water main break can cause low water pressure. But a leak of that sort is almost always visible. One of the most obvious reasons for low water pressure is cracks in water service pipes, or the main line itself. If the water leak is severe enough, enough volume of water escapes the line and it will cause a sudden drop in pressure.
To check for damage or a leak on a water pipe, you need typically need the help and guidance of a professional plumber. It gets more difficult when the leak happens in the main supply line. Again, this is a job best left to professionals. In these rare cases of a water service line leak, the only way to bring the water pressure back to a normal level is to repair the leak, or replace the damaged pipe. Before any work is performed, it is typically advisable to call 311 first and request a site visit from the DEP.
LOCAL, FAST & RELIABLE
REQUEST A FREE ESTIMATE APPOINTMENT
Phone Number
(718) 715-4862
24/7 Emergency Services
Email Address
empirewms
@gmail.com
Office Location
3321 De Lavall Ave,
Bronx, NY 10475